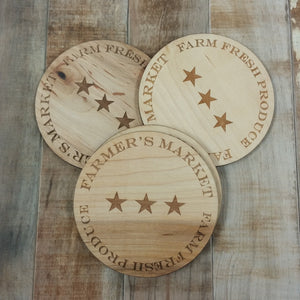 "Farmer's Market" 4 inch Laser Engraved Wood Coaster. All coasters are sealed and waterproof. Comes in a set of 4.
LaserLingo is a small town business located in Rock Island, Tennessee. We offer custom laser engraving and specialize in laser engraved home décor and gift items. The wood signs we engrave on are extremely durable and hand made from scratch by us. We pride ourselves on quality and that is exactly what you will get with our products. If you don't see a saying that you would like, let us know and we will be glad to make it for you!
All of our signs are made out of maple, walnut, poplar, cherry or cedar and affixed with a jute rope or saw tooth hanger for wall hanging. All coasters are made of 1/4 inch Maple Plywood. Each individual item will vary slightly in color, imperfections in the wood and minute size differences.